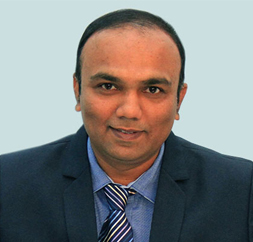 Dr. Ajit S. Jankar
HOD and Reader Dept. of Prosthodontics and Crown & Bridge
Dr. Ajit S. Jankar is working as a Professor & HOD and pg teacher in Dept. of Prosthodontics and Crown & Bridge, MIDSR Dental College Latur. He has completed his post graduation from Govt. Dental College & Hospital Mumbai. He has a teaching experience of more than 20 years and has got various international and national publications on his name. He has presented papers at various national and international conferences. He has been a part of the various continuing education programmes and conducted hands – on workshop in the department on Prosthetic Dentistry & Implantology. He is fellow member of IDA, IPS. He is well known Implantalogist and he has been actively involved in UG & PG student.
HEAD OF THE DEPARTMENT MESSAGE
I am pleased to welcome you to the website of the Department of Prosthodontics. Our department is dedicated to the advancement of knowledge and clinical practice in the field of prosthodontics. We strive to provide our patients with the highest quality of care and to educate the next generation of prosthodontists.
Prosthodontics is a specialty of dentistry that focuses on the restoration and replacement of missing or damaged teeth, as well as the reconstruction of the jaw and mouth. Our department is comprised of experienced faculty members who are committed to excellence in teaching, research, and clinical practice.
Our educational programs offer students a comprehensive curriculum that includes didactic coursework, hands-on laboratory experiences, and clinical training. We emphasize a patient-centered approach to care and provide students with the skills and knowledge necessary to provide advanced prosthodontic treatment.
Our research programs focus on a variety of topics related to prosthodontics, including dental materials, implant dentistry, digital dentistry, and maxillofacial prosthetics. We are committed to advancing the field of prosthodontics through innovative research and the translation of research findings into clinical practice.
We invite you to explore our website to learn more about our department and the services we offer. If you have any questions or would like to schedule an appointment, please do not hesitate to contact us.
Sincerely,
Dr. Ajit S. Jankar
Head of Department