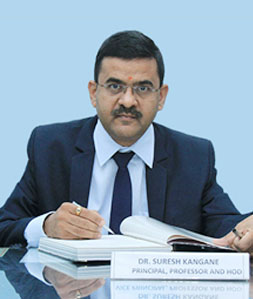 Dr. Suresh Kangne Principal, MIDSR Dental College & Hospital, Latur – 413512.
Prof. Dr. Vishwanath D. Karad, Founder, Executive President and Managing Trustee, MAEER MIT Pune, with an intention to promote Human values extended the health care facilities at Latur & surrounding rural area, in the form of Maharashtra Institute of Dental Sciences & Research (Dental College & Hospital), MIMSR Medical College and Hospital, MIPS College of Physiotherapy & MINS College of Nursing.The MIDSR Dental College was established under the Trust MAEER MIT World Peace Centre, Pune in 2006. Since its inception, MAEER MIT has been striving for the betterment of society through a value based education system in varied disciplines under its umbrella. The MIDSR Dental College has admission capacity of 100 students per year to BDS course. Admissions are done through Government common entrance test (MH CET), Government of Maharashtra and central counseling at Directorate of Medical Education and Research, Mumbai and in future is ready to be a part of NEET as per Honerable Supreme Court's order from 2013.
The aim of this Dental College is to provide unmatched qualitative education par excellence to develop the best happiness of learning. Our concerted effort is towards retaining smiles on the faces of the students & their parents with an earnest attempt to provide the knowledge of dentistry with all recent technical advances along with abundant clinical material. Eventually providing excellent health care facilities for the patients.
The College has an elegant appearance of palace, with huge building. Campus is spread over 106 acres of land and fascinating landscape. College administration is student centric with keen to develop culture of value based education and to reach the position of excellence. It has a well established Digital Library which caters the need of the students. Each individual student is supervised by the well experienced faculty. The Hospital is equipped with modern facilities and technology.